It's been a wild experience searching out the ideal camera kit to fit for my purposes here at the DiscoPosse Podcast network. Our primary medium is audio, with a growing audience across lots of syndicated platforms.
As I made the jump to putting more of the video versions on our YouTube channel, I noticed an increased engagement and interest in the new visual content. How cook is that, right?!
I'm also the interesting type of gear geek that knows judge enough about it to understand the limitations and advantages. My entire goal is to have ease-of-use, affordability, and quality of the output that I would watch myself.
As an Amazon Associate I earn from qualifying purchases.
The Original Kit – GoPro Hero 9
Any MacBook user will know the pain of trying to get decent quality video consistently out of the built in FaceTime camera. It's not terrible, but the position and the quality in varied lighting conditions makes it a real drag on creating more engaging video content.
I opted to put my GoPro Hero 9 action camera to the test in order to up my HD video game. It definitely was a huge upgrade. All you need is the freely available GoPro webcam driver and you're off and running with the new high definition visual upgrade for your viewers.
Pros: very high quality HD without much hardware, image stabilization makes it easy to mount.
Cons: no depth of field, and the camera often heats up and freezes after an hour or more of use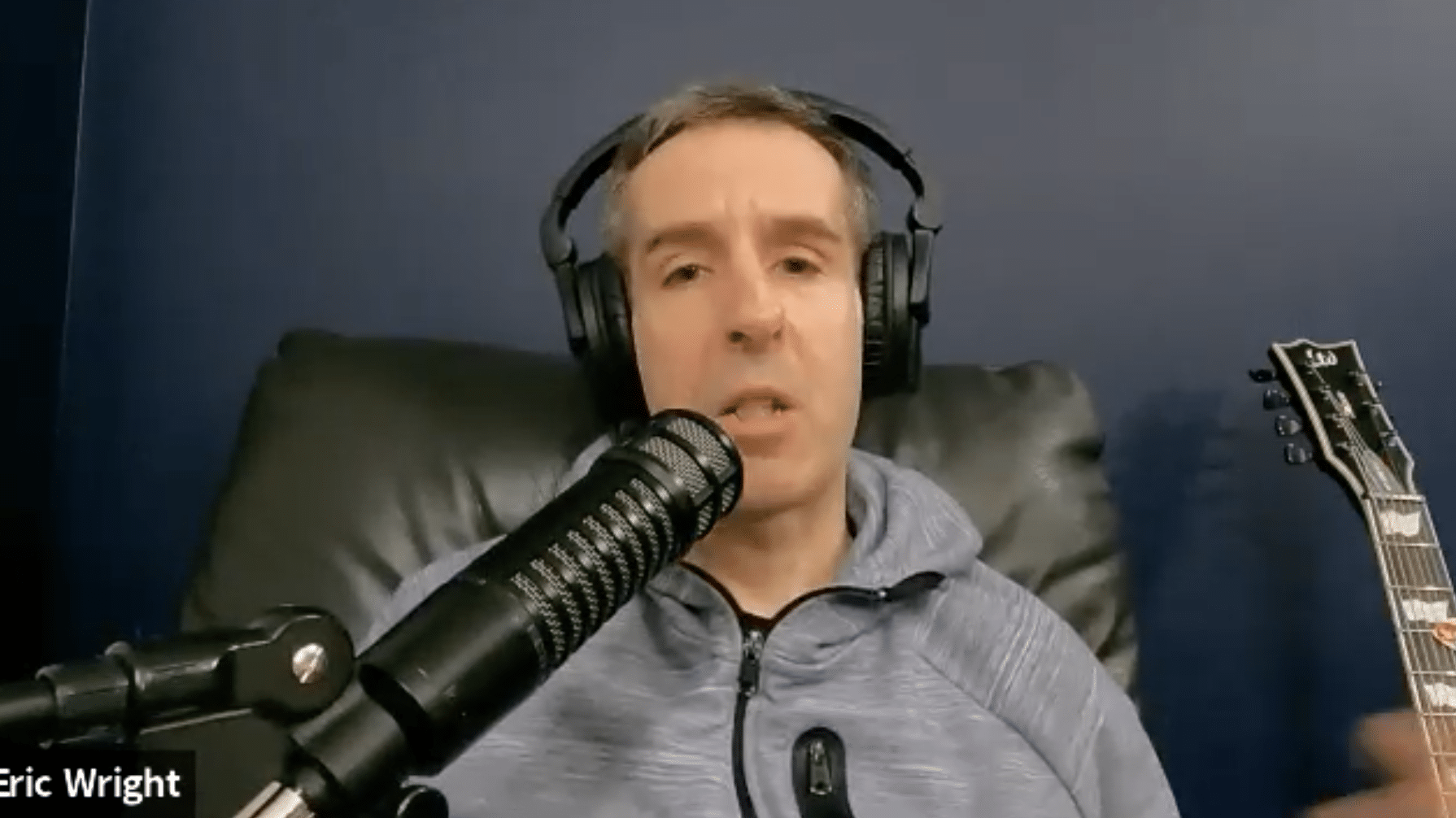 the GoPro Hero 9 is designed for stunning action shots. The downside is the everything in the field of view is in focus which is great for sports videos, not so much for interviews.
Depth of field as a visual tool lets you focus the camera to one region in the shot and it de-focuses, using natural focus blurring, for everything further back. This is not possible with a GoPro which was my reason for making the jump to the next kit.
The Next Upgrade – Nikon D610 + Elgato Camlink 4K
My wife has a Nikon D610 which I borrowed for use as my new camera. It's an older Nikon with a 50mm lens (aka the Nifty Fifty) and was an immediate boost to the visuals for meetings, webinars, and my podcast recordings.
It suporte HDMI clean output but needs an interface to convert for use by the OS and applications. This prompted my first purchase of the Elgato Camlink 4K to support bringing my Nikon as the input for everything I use.
The Camlink is super easy to use as you can see in my u boxing video here:
But then I decided to start planning for what my real dream kit would be if I could buy it from the ground up.
My Unscientific Poll for Advice
When in doubt, go to Twitter to see who's got some ideas and opinions, right? I ran an unofficial and unscientific poll to have folks pick between three potential options. You'll note the missing option is Canon. There are reasons for this that are specific to my choice. You may have Canon among your pick list…and it seems that some of the comments indicated I should have added it despite my purposeful exclusion.
Reaching out to photog and vlogging Twitter for this.

Which would you choose for video recording/streaming of these three, reason in a reply appreciated 🙂

— Eric Wright (@discoposse) May 30, 2021
Polls are great to test to see if you've got any other peers that may be able to help with informing your decision. Now I had all I needed and was ready to buy!
The Dream Kit – Blackmagic Pocket Cinema 4K + Accessories
Despite lots of advice (aka opinions) on choosing other options, I narowed it down to the new gear kit which includes a Blackmagic Pocket Cinema 4K, Blackmagic ATEM Mini Pro, Elgato HD60+, and some specific lenses to suite my needs. Here's the breakdown of each component and why I chose it.
Blackmagic Pocket Cinema 4K
This stands out as one of the potentially contentious choices, but one I can stand behind fully. I love this camera! The Pocket Cinema 4K shoots native 4K video at 60 frames per second which is such a relative rarity in this price range (like all of these pieces I've used for my super kit).
One of the big sticking points for a lot of people seems to be the video mode with continuous autofocus. The use-case I have is shooting from a stable position on a tripod or mount and I'm not moving around. For me this was a no brainer for getting the other really fun features and quality of output that the Blackmagic Pocket Cinema 4K has baked in.
I'm a novice user of DSLR cameras in general so it was a leap to go up to this prosumer level of camera right away. What I found is that it requires little to no configuration and it's versatile for everything I need it to do. My specific main use-case is single point video for streaming and recording with a properly lit room.
The Blackmagic Pocket Cinema 4K deserves a whole post to itself. Needless to say I'm just scratching the surface on the power of the unit but the simplicity of the touch screen interface and external control options were a no-brainer for me with tools like the Blackmagic ATEM Mini Pro (spoiler alert…scroll down for info there).
Metabones T Speed Booster Ultra 0.71x Adapter
One decision you need to make is around lens types, brands, and also fitting within your needs based on the sensor size. Certain lens options impact the end result and this could also be a matter of matching your existing EF lenses to the Micro 4/3 (MFT) lens mount that's native to the Blackmagic Pocket Cinema 4K or 6K.
I chose to stick with EF mount lenses that I could adapt from lenses I already had in another kit. This also meant an adapter like the Metabones Speed Booster enhances the result because it blows up the size of the image up by 1.4x and allows more light to reach the sensor than using a stock MFT lens would have (aka your images will look better).
The one I chose was the Metabones T Speed Booster Ultra 0.71x Adapter which came highly recommended, and highly rated for the Blackmagic Pocket Cinema 4K. I absolutely love this unit. An easy add-on that gives lens flexibility and an awesome picture/movie result.
Sigma 18-35mm F1.8 Art DC HSM Lens
Lens choice is important depending on how and where you choose to shoot. I've opted for the Sigma 18-35mm F1.8 Art DC HSM Lens which meets a specific need I have for short-distance with wide view shots because I film in two locations that don't have much space.
The focal length also gives you that nice depth of field for a really professional image and lots of flexibility for both still and video work. Because it's got the integrated focus control with my Blackmagic Pocket Cinema 4K, I can easily do an autofocus trigger to line up with me if I have to move around.
There is more bonus goodness to the story once you scroll to the very bottom and see what other must-have accessory I bought to go along with this kit.
K&F Concept TM2534T DSLR Camera Tripod
Tripod brand and style is probably as specific for some photographers and videographers as the camera itself. I settled on the K&F Concept TM2534T DSLR Camera Tripod which is 66″ at it's top height and comes with an extension arm. I sometimes do a little unboxing and other types of video fun so it made sense to have flexibility for the position of the camera.
Pros of this tripod is that it's solid. It's magnesium and aluminum for some good strength without serious weight challenges. The control and setting of the position is smooth and the unit feels heavy and high quality. It's probably not the lightest of all options to haul around on a backpack or for heavy travel but that is really just a choice of whether you can handle an extra half pound to a pound pound or so over other lightweight travel tripod options.
The camera mount is what I love about this. So much so that I bought two additional camera mounts for some desk stands I have and to go on the Joby Gorillapod that I also have. It's awesome to be able to just pick the camera up and move it from stand to stand because it has the same camera mount every time. Huge time saver if you have a few static shooting positions/locations like I do.
Joby Gorillapod
Sometimes you take your show on the road and the idea of hauling around a full-sized tripod may be overwhelming. When I want to do a remote shoot, it's alwasy something that will be at a hotel or tradeshow and I know in advance that I can get a location that gives me a table or something to use as a base.
This is where the Joby Gorillapod comes in handy as the ultimate miniature tripod because it can be used directly on a flat surface, or can also grip and morph to objects like railings and fences to make it super flexible for use for just about any shoot that I'm doing.
It's also got a very strong base and mount that means you wont get shake issues or weight issues for a full DSLR. If you've ever used another mini tripod and tried to mount a DSLR with a long lens on it, you know the pain.
The Gorillapod is solid! No camera tilt and lots of flexibility for where to stand it up. A must-have for the mobile shoot.
Komputerbay CFast 2.0
One thing I figured out the hard way was that recording video at 4K needs FAST disk or memory. Like really fast. The Blackmagic Pocket Cinema 4K delivers high quality image and vidoe but at the cost of the need for speed to write it out for storage.
There is a rating card that shows all the high speed SD cards will only do HD level video. That's because of the amount of data that's written during the video use at 4K. Enter the CFast 2.0 standards and you're in good shape, but at a slightly higher price. These roll in at about 1$ per GB. I chose the Komputerbay CFast 2.0 256 GB card which does what I need it to do because I use the camera more for live streaming and direct to laptop recording.
Elgato HD60+
When it comes to easy setup for streaming using your DSLR, the Elgato HD60+ makes it a simple one-step. It literally can't get easier. Just plug in the HDMI directly to the Elgato HD60+ and then USB-C connect the HD60+ to your laptop. Done!
You can hook up a microphone directly to the Elgato and use software like OBS (Open Broadcaster Software) to do your streaming. The HD60+ is hardware based and therefore bypasses any issues with CPU load by simply doing the conversion of HDMI on-board which also gets rid of lag from using software based converters.
I have used the Elgato Camlink 4K as well but decided to kick the tires on the Elgato HD60+ just for the bonus audio interface. It's up to you whether that's a worthwhile step for the slightly higher price above the Camlink 4K.
Blackmagic ATEM Mini Pro
Can you detect me grinning while I write this? It turns out that this is legit one of my favorite parts of the rig that I put together. This was a bonus item I really enjoyed adding to the roster. Using the Blackmagic Pocket Cinema 4K as a live camera can be done using the Elgato Camlink 4K or the Elgato HD60+ like I have already. Then I looked at the features and capabilities of the Blackmagic ATEM Mini Pro and decided to dive in.
I've only used it a few times so far but the benefits are big. You can use both live inputs and pre-recorded files or clips from your laptop during your stream using the ATEM Mini Pro switcher.
It's got a full included control panel that shows what you're doing, plus lots of extra buttons to modify stuff on for quick access to really slick production at the touch of a button. This really is a full production system in a box, literally.
This solved a big problem I had with latency between video and audio when doing live streaming. OBS has some tips and tricks to get around a sync issue but I avoided it altogether by just using an unbalanced line out from my Scarlett USB audio interface into the ATEM Mini Pro 3.5mm jack.
I hope you like the increasing quality of the output of the podcast and that these reviews are helpful with your own potential purchases. Let me know in the comments below any tips and tricks you have or your own gear ideas I may need to add to the list.
Here's the final product by the way!